Dr. Guy L. "Bud" Tribble III (born c. 1953) was the Vice President of Software Engineering at NeXT.
Education
[
]
Tribble received his bachelor's degree in physics from the University of California, San Diego in 1975. He received a M.D. and Ph.D. in biophysics and physiology from the University of Washington, Seattle after completing a six-year program in 1983 while an employee at Apple Computer. Though Tribble had completed an rotating internship in 1984 at Mount Zion Hospital in San Francisco, he decided to forgo practicing medicine and stayed with Apple.[1][2]
Career
[
]
Apple Computer
[
]
Tribble was recruited by Jef Raskin, a former assistant professor from UC San Diego, to join the original Macintosh development team at Apple Computer in 1980.[3] Tribble helped design the user interface of the system software as manager of Mac software [1][4] He took a leave of absence in December 1981 to complete his graduate studies, remaining part-time to implement the Macintosh memory manager.[5] Tribble returned to full-time in 1984.[2]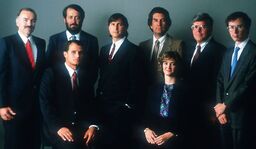 NeXT
[
]
When Apple co-founder Steve Jobs left the company in 1985, Tribble also left and joined Jobs as a founding member of NeXT, where he became an expert in software design and object-oriented programming. Tribble left NeXT in 1992. He married fellow Apple and NeXT colleague Susan Barnes.[6][7]
Tribble then became the chief technology officer of the Sun-Netscape alliance.[4]
Apple Inc.
[
]
Tribble is one of the few early Apple Computer employees to have completed a "round trip" with Jobs to NeXT, and back to Apple after its acquisition of NeXT Software in 1997. Tribble returned as Vice President of Software Technology on January 9, 2002, reporting directly to Senior Vice President of Software Engineering Avie Tevanian.[8] Tribble is presently a policy czar on customer data privacy at Apple and has testified on behalf of the company to the United States Senate.[4][9]
References
[
]
External links
[
]