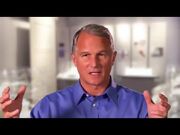 Dan'l Lewin was the Vice President of Sales and Marketing at NeXT.
Early life and education
[
]
The unusual spelling of Dan'l's name is on his birth certificate; Lewin stated that it was his mother's idea to use his father's nickname.[1] Lewin attended Kenmore East High School in Tonawanda, New York. He qualified for the New York State Championships as a competitive swimmer in 1970 through 1972.[2] Lewin received a bachelor's degree in politics from Princeton University in 1976. After graduating, he drove to California with an antique stove on top of his car after losing a bet.[1]
Career
[
]
Lewin became Sony's district sales manager and was assigned to Silicon Valley from 1977 to 1981. He first introduced Sony's then-new 3.5-inch floppy disk mechanism to Apple Computer.[3]
Apple Computer
[
]
Lewin was hired by Apple in January 1981. While assigned to the Macintosh division, Lewin established the Apple University Consortium. He eventually became the Director of Global Education Sales and Marketing.[3]
NeXT
[
]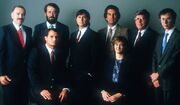 When Apple co-founder Steve Jobs left the company in 1985, Lewin also left and joined Jobs as a founding member of NeXT, where he became the Vice President of Sales and Marketing. Lewin left NeXT in 1991 and was succeeded by Mitch Mandich.[3][4][5]
After NeXT
[
]
Lewin served as Corporate Vice President of Technology and Civic Engagement at Microsoft from January 2001 to September 2017. Lewin is presently the President and Chief Executive Officer of the Computer History Museum.[3]
References
[
]
External links
[
]