Mitchell "Mitch" Mandich was the Vice-President of Worldwide Sales and Services at NeXT, succeeding Dan'l Lewin who left the company in 1991.[1][2]
Education
[
]
Mandich is a graduate of University of California, Berkeley.[2]
NeXT corporate biography
[
]
(modified to past tense)
With over 15 years of experience in the client/server industry, Mandich developed and led NeXT's strategy for Internet and client/server solutions to enterprise customers.
Before joining NeXT, Mandich served as Senior Vice President of Americas Sales and Marketing at Pyramid Technology, a Siemens Nixdorf company, where he led the company to growth and profitability. Prior to Pyramid, Mandich rose through the ranks at Tandem Computers, including positions as Director of U.S. Sales Operations and Director of Western Region Operations. Mandich began his career in computer technology at Unisys where he held a variety of sales and management positions.
Prior to joining Unisys, Mandich taught sociology at West Valley College and San Jose State University.
Mandich lived in the Bay Area with his wife and children.[2]
After NeXT
[
]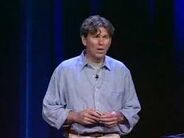 NeXT was acquired by Apple Computer in 1997, where Mandich soon became the Senior Vice President of Worldwide Sales. Apple announced on October 9, 2000 that Mandich was retiring, though there was speculation that he left after disappointing sales of the Power Mac G4 Cube.[3] His responsibilities were temporarily assumed by Tim Cook, Apple's Senior VP of Operations.[4] The position was later filled by Phil Schiller.[5]
In 2001, Mandich sold 275,000 shares of Apple stock at a little over US$20 per share, netting nearly $4 million.[6] He later became the CEO of ethanol producer Range Fuels.[7]
References
[
]
External links
[
]