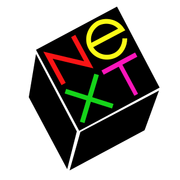 NeXT Inc., later NeXT Computer, Inc. and NeXT Software, Inc., was an American computer company founded by Steve Jobs in 1985 after he left Apple Computer. Jobs filed incorporation papers for NeXT on September 16, 1985, the same day he formally resigned from Apple.[1]
History
[
]
The company produced a series of workstations aimed at the higher education and business markets; they ran NeXTSTEP, an advanced, UNIX-based, object-oriented operating system. Although their technology was very innovative for the time, high prices and little software available led to very poor sales.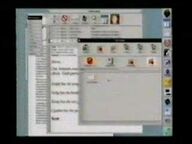 NeXT machines were used to develop CERN's WorldWideWeb (the first web browser), and id Software's hit games Doom, Doom II, and Quake.
On December 20, 1996, Apple Computer announced that it would acquire NeXT.[2] Apple's goal was to use NeXT's software technology as the basis of a "modern Mac OS" after the Copland project had failed to do so. The acquisition was completed on February 7, 1997 for $429 million to the original investors and 1.5 million shares of Apple stock to Steve Jobs.[3][4]
OpenStep, the open source descendent of NeXTSTEP, was then combined with components from FreeBSD to create first the Rhapsody environment, and then the Darwin / Aqua / Cocoa architecture was introduced into Mac OS X Server, and later Mac OS X client.
Management
[
]
The NeXT board of directors included:
Executive team
[
]
The entire senior executive team took top management positions at Apple Computer after the acquisition of NeXT was completed in 1997:
Apple alumni
[
]
A number of key employees from Apple followed Jobs to NeXT in 1985:
See also
[
]
References
[
]
External links
[
]
Articles
[
]