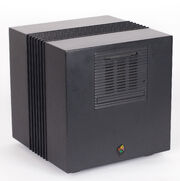 The NeXTcube Turbo was a high-end workstation computer developed, manufactured and sold by NeXT. It superseded the earlier NeXTcube workstation and was housed in the same cube-shaped magnesium enclosure. The workstation ran the NeXTSTEP operating system.
Hardware
[
]
The NeXTcube Turbo was a development of the earlier NeXTcube. It differed from its predecessor in having a faster 33 MHz Motorola 68040 processor.
The NeXTdimension board could also be used in the NeXTcube Turbo.
There was also a very rare accelerator board known as the Nitro; between 5 and 20 are estimated to have been made. It increased the speed of a NeXTcube Turbo by replacing the standard 33 MHz processor with a 40 MHz version.[1]
Specifications
[
]
References
[
]
External links
[
]